Gujarat Tour Packages : Little known, Gujarat is rich in magnificent temples, historic sites and palaces of all kinds.
Visit Gujarat, the westernmost state of India, the spiritual kingdom of Lord Krishna, and the original home state of Mahatma Gandhi. A sidestep off the Mumbai-Rajasthan tourist trail, discover India's vacation jewel where flashes of beauty meet the colourful grandeur of the desert sand. Write us for your Gujarat tour packages and one of our Indian expert will be in touch with you to make your trip memorable.
Welcome to Gujarat, arguably the country's largest tourist destination and a terrific all-rounder with a city so beautiful it's already been christened the Manchester of the East. Ahmedabad's treasure trove of centuries-old mosques, mausoleums, and temples along with the craft villages of Kachchh means you may never forget Gujarat.
For a holiday, Gujarat offers perhaps what no other Indian destination promises; scenic greenery, ancient monuments, remnants of civilizations of yesteryears, and stunning beaches.
Discover the Best of Gujarat Tour Packages
So enchanting with lots of rare and beautiful sights and sounds and absolutely lip-smacking cuisines, Gujarat is a little paradise. Explore the remarkable UNESCO-protected architecture that color Ahmedabad and the tribal villages that produce some of India's best textiles, "The Land of the Gurjaras."
Gujarat, whether it's for an epic, adventure-filled holiday or a little, romantic escape, is just perfect. It is located on the famous Mumbai-Rajasthan tourist trail, which makes it a lot convenient for a tourist to travel this large state's hidden treasures.
On offer on every carefully planned Gujarat tour packages would be a visit to the Lost City of Krishna, a divine city whose purpose is as mystical as Lord Krishna's original idea. In this little beauty, among the things you will discover is why this "Gateway to heaven" is no more.
Somnath temple in Junagadh district is equally unreal. Visiting this ancient wonder, one of the original 12 sacred Jyotirlingas, means you get cured by Daksha Prajapati. Or, maybe your iron watch turns into a golden piece of jewel at the Syamantak Mani; just maybe!
Stopping by Gujarat also means you get to see one of India's revered National Parks – the Gir National Park. And make no mistake; this can never be an ordinary visit because it will be a once-in-a-lifetime opportunity to see Asiatic Lions. These lions are exclusively native to the region alone!
Still, if seeing the best of India's wildlife is top on your bucket list, then you may need a Gujarat tour package that encompasses that. Gir wildlife sanctuary is home to "The Sambar," possibly India's largest Deer, Chowsingha – the world's only 4-horned antelope among several other animals.
Did you know that the world's largest salt desert is found in Gujarat? That's right; the breathtaking Rann of Kutch, where tourists flock for a soul-soothing view of the sun as it sets, is a little magical escape. That, plus the 3-month Rann Utsav, will surely keep you in love with Gujarat.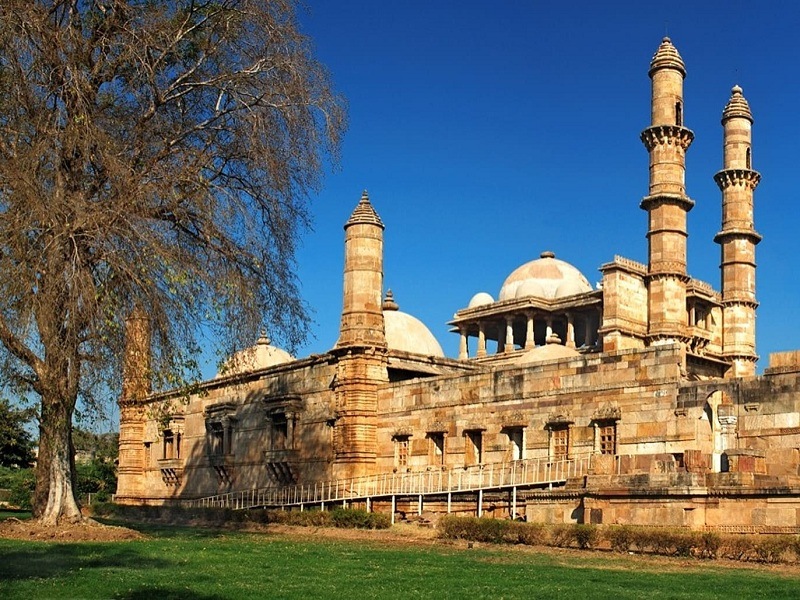 Other places to visit while voyaging across beautiful Gujarat include perhaps the finest human-made stepwell – Rani Ki Vav, Patan, and the Solanki Era Temple. Palitana, a fascinating tourist magnet, and Laxmi Vilas Palace, which instantly signify affluence, are some other must-visits.
Generally, Gujarat tour packages pack the best of all destinations of this larger "Land of the Gurjaras." You might, however, need a Gujarat travel guide who understands which of these wonders to visit, when, and what's there.
Blog : Best time to travel to India
Don't wind up your trip without tasting Gujarati Thali
If you love sand and sea, then strolling along the chilled-out shores of the Arabian Sea is what you will fall in love with. But don't ever imagine that holidaying in this colorful state would be enough without indulging in the state's trademark cuisine – a plate of the famous Gujarati Thali.
Gujarati Thali isn't just what you will love about the state's gourmet sector. It is also what your preferred Gujarat tour guide ought to tell you and even introduce you to, including the best eateries for fine Thali experience.
So, when would you like to visit Gujarat?
Perhaps you are wondering when the best time to visit Gujarat is. Well, with the state's erratic climate that includes periods of hot and dry summer and cold and calm winter all-year-round, planning a trip is a little bit tricky.
To experience a calm and adventure-filled outing, however, visit Gujarat during winter. November through February is usually perfect, as that's when the weather conditions are pleasant for a full-day outdoors trip. You will comfortably go on sightseeing expeditions, visit any archeological site of your choice, and even indulge in Gujarati Thali.
Summer months, which kick off in March and persist till June, aren't conducive for adventure trips. During this period, the whole place gets extremely hot and humid with temperatures going beyond 410 Celsius during the day. In summer, though, Saputara's lush countryside and lakes are the only places worth visiting as Dwarka, Somnath, Ahmadabad, and Vadodara are all hot and deserted by tourists.
If you are vacationing in Gujarat in July, be sure to pack a couple of warm clothes as some areas during this period tend to receive heavy, irregular storms. The monsoon runs from July till September, although it's also the same period when almost all regions across the state go green and beautiful again.
Blog : Travel tips to visit India
Gujarat by Road, Rail, and Air
You've little to worry about reaching Gujarat because besides flying, you have a train ride and the road to use and arrive.

By Air

First off, it is crucial to let you know that Gujarat's 17 airports are the biggest of all airports in a single state across India. And that automatically means catching daily, and weekly flights is a breeze. Traveling by air is significantly affordable, too, as the state is served by several locally-owned and operated airlines.

By Rail

Flying to and out of Gujarat is exciting, but it doesn't have the thrill and excitement that train rides offer. As the Western Railway Zone snakes its way through the state, holidaymakers often have epic views seeing the vast, varying landscapes along the way. Trains are also super-fast and well-maintained and make it a lot convenient to arrive in Mumbai or Delhi from Ahmedabad.

By Road

Hit the road, and you will marvel at how beautiful the countryside is. Gujarat has perhaps the best, well-maintained roadways in Western India, and all of them connect to the whole country. Buses are the best for scenic rides and explosive experiences, although car rentals are great for exclusive on-the-road experiences.
One More Thing on Your Gujarat Tour Packages
Gujarat is India's home of fairs and festivals, and maybe you've never attended one. Well, plan to attend one of these fanfares and experience the colorful vibrancy of the state's rich cultural heritage.
One absolute must-attend festival is January's Makar Sankranti festival. It is as adrenaline-charged as you can imagine, and it attracts multitudes of revelers from all over the planet. Others to look out for include Kite, Modhera, Bhavnath, Holi, and Chitra-Vichitra festivals.