Places to visit in Rajasthan
Top places in Rajasthan to visit :

Our travel guide sharing the best Places to visit in Rajasthan
Located in the North-Western part of India with an area of 342,239 sq. Kilometers, Rajasthan is one of the most populous States occupied by approximately 79 million people. According to recent statistics, Rajasthan's population is projected to cross the 80 million mark by the end of this year. Formerly known as Rajputana in pre-independence, the state has continued to experience exponential growth over the years. Planning a trip to India and wandering the best places to visit in Rajasthan, this blog is for you. In case if you have any doubts or questions, please do not hesitate to write us
Besides being a vibrant state with a high population, the town has the best tourist attraction environment that anyone should try out.
A percentage of the state is covered by India's Thar desert. Commonly known as the Great Indian Desert, The desert forms a boundary between India and Pakistan with an estimated size of 200,000 sq kilometers.
Best places to visit in Rajasthan
Rajasthan History
Rajasthan History dates back to 5000 years ago. The Indian state history is therefore categorized into the following based on various aspects – i.e Ancient, Modern, and Medieval.
Ancient dating 1200 AD
Republics dominant in this area were Arjunyas, Kushans, Malavas, Guptas, Hunas, and saka Satraps. That emergence of Rajput clans dominated most parts of Rajasthan, dating back to 700AD. These Republics were part of the Mauryan Empire.
Rajput clans got into India's book of history between eighth and twelfth century AD. On the other hand, between 750 and 1000 AD, Pratihars reigned in Rajasthan, including most parts of northern India.
Later on, supremacy wars erupted between Chauhan's, Chalukyas, and Parmars in the years dating back to 1000-1200 AD.
Medieval period 1201-1707
Muslim rule partly took over some parts of Indias Rajasthan state. During this time, Ajmer and Nagaur reigned to stamp their authority in a quest to carve a space in the sate.
This unfolded in 1200 AD, where Ranthambore was also dominated by the Muslim rulers. Eventually, Mewar became one of the most powerful cities in Rajasthan during the 13thcentury AD.
Modern period 1707-1974
Mughal emperor Akbar brought political stability in Rajasthan. This came after political instability was the order of the day in Rajasthan. The nomination of the city by Akbar brought political unity and sanity in the state.
Unfortunately, the quest for political stability was short-lived after the Mughal Empire was brought down in 1707. This came after Marathas emerged to conquer the state, after which they ended up dominating Rajasthan upon the collapse Mughal Empire.
Rajasthan famous places you should visit
India's Rajasthan's state has some of the best places you should visit. Art fanatics have something to enjoy in the state due to stellar architecture displayed across the state.
The state boasts of unique architecture, giving it a conspicuous outlook. However, Rajasthan has one of the most diverse cultures in the world.
Popular places to visit in Rajasthan
Rajasthan houses an amazing display of arts and architecture, courtesy of it being a princely state.
Each kingdom of Rajasthan has a distinctive style of architecture and arts, making it one of the most culturally diverse places. In this article, we shall list out the popular places to visit in Rajasthan.
This article highlights famous places you should visit in Rajasthan;
1.Jaipur
Jaipur is one of the best tourist destinations for individuals hoping to enjoy a treat. The place is known for hosting the best tourist centers, including the Golden Triangle tourist circuit.
Complete with great architecture, a visit at Jaipur is one of the best experiences that everyone should try out.
Those on tour and wondering where to go for accommodation when they land in Rajasthan should try out Jaipur's excellent tourist outreach.
The cost of accommodation is cheap since most of the joints have been converted from existing properties.
This offers guests a great holiday experience upon checking in for accommodation. Those hoping to go out shopping should also try shopping in Jaipur to enjoy an excellent shopping experience.
2.Udaipur
If you think about giving yourself a treat at the beach or fun of spoiling yourself through some party, then Udaipur is the place you should visit. Dominated by various lakes and tourist hotels, Udaipur is the most romantic place in India.
In case you are thinking about enjoying a royal environment, then Udaipur should be your dream destination.
The city is home to the famous city palace museum and city palace complex, which sits along the shores of Lake Pichola, where the Royal family lives.
You can opt to stay at the city palace, or any other tourist hotels on the lake shows to enjoy the breeze the beach. Jagat Niwas heritage hotel is among the best hotels in the city that you should try out.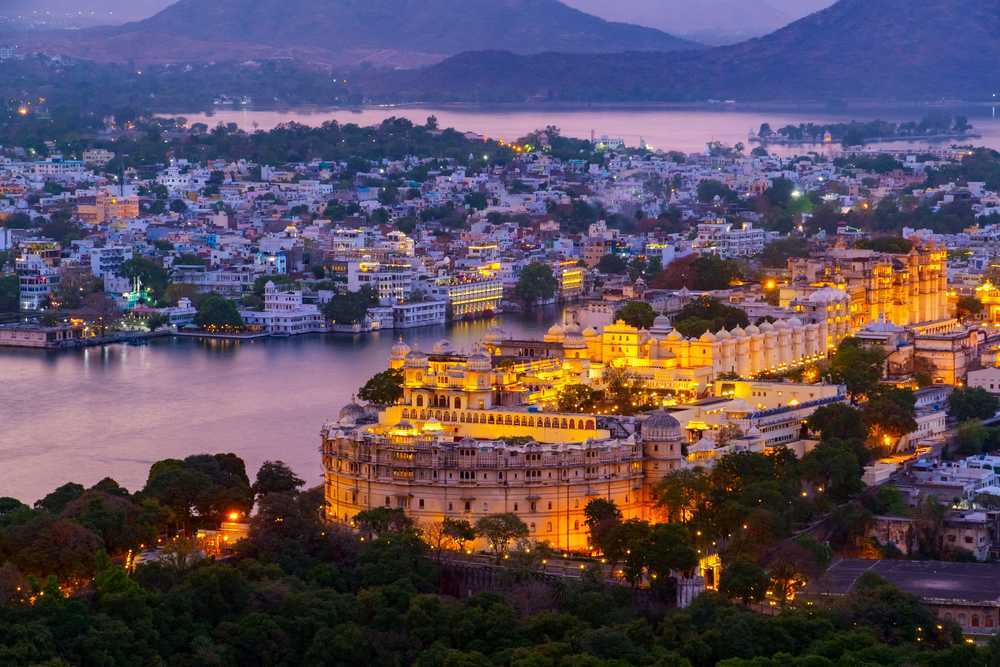 3.Jaisalmer
Are you looking for a place you can enjoy yourself for a great experience? Then Jaisalmer is the place you should visit.
Pomped by ancient buildings like the ancient fort dating back to 1156, you can enjoy ancient architecture giving you old memories about the past to jog your mind about ancient lifestyle.
Lovers of history and those who wish to explore a different life experience should give it a try. The city has several temples and palaces, along with other residential buildings. Lovers of camel rides can enjoy themselves, including dinner and dances.
4.Jodhpur
Complete with blue painted buildings and architecture, Jodhpur is the second-largest city in Rajasthan. Commonly referred to as the blue city, Jodhpur hosts the most massive forts in India Mehrangarh Fort.
The fort presents the best architecture across the city. Some of the aspects in the fort include restaurants and a museum. Jodhpur hosts several joints that you can visit and bask to enjoy yourself.
5.Pushkar
Pushkar is not so vibrant compared to other towns in Rajasthan. Visitors hoping to visit the town for a holiday should do that between October and November. This is because it is the picking season when the Pushkar camel Fair kicks off.
Individuals hoping to witness old Indian culture should visit the town during this period since various Indian traditional cultures are displayed.
Though appealing to locals, the festival is tourist-oriented meant to attract tourists to experience the Indian culture. Those longing to get more out of the festival can head to the Pushkar market to enjoy some great experience.
6.Ranthambore National Park
Are you an animal fanatic? Then Ranthambore National Park is your dream destination. Notably, The national park is one of the most famous parks in India.
Located a few kilometers from Jaipur, Ranthambore National Park is a major wildlife tourist attraction center that continues to draw tourists from various parts of the world. If you wish to visit the park, you can locate it in the southern Rajasthan, Sawai Madhopur,district.
7. Bundi
Travelers like this place though not a major preferred tourist destination. The place has a great outlook that includes temples, lakes, blue paintings resembling those in Jodhpur, and great art paintings.
Bundi,is not a vibrant town compared to other towns through great architecture outlook in a building that makes it more unique.
Some of these structures include ancient winding lanes and 60 step wells on top of the palace. This presents an appealing architecture that is attractive
8.Chittorgarh
Founded by Maruya Dynasty. This is India's ancient city. The city gained fame when the sisodiya Rajput clan ruler of Mewar took over the city back in 734 AD, after which he promoted it to Mewar capital.
Renowned Great Indian warriors are believed to have been born in this place. Some of these warriors include the great Maharana Pratap, Meera Baj along with Hindu saint.
Being an ancient city displays some of the ancient buildings that include temples, forts, and old architectural designs. Visitors to the town can visit Chittorgarh fort, which is among the most prominent forts in India.
Notably, the fort was former Mewar capital before it was relocated to Udaipur due to safety reasons. If you are thinking about visiting the fort, be ready to experience great ancient architecture.
A tour at the fort complex showcases great experience from several palaces, temples, gardens tied to historical aspects of the ancient times.
Rajput architecture is well displayed in most buildings in this area, with a towering fort that has a height of 1075 meters. Lovers of architecture and art are assured of great experience should they decide to visit for a holiday.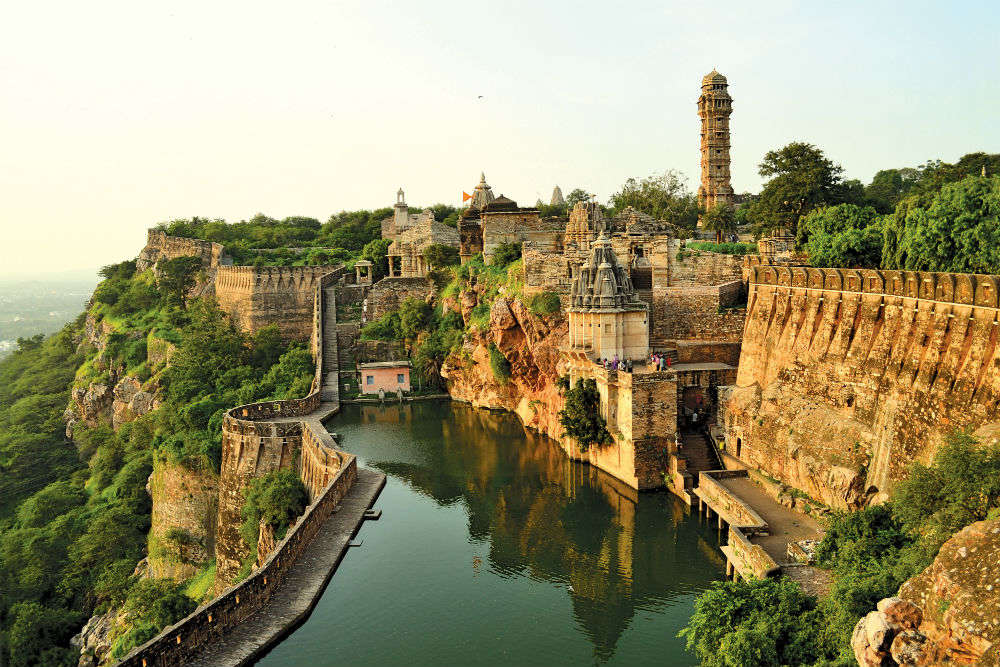 Top places to visit in Rajasthan; when to visit
Rajasthan has various climatic conditions, namely, summer, post-monsoon, monsoon, and winter. Variation in temperature varies depending on the region you plan to visit.
Rajasthan experiences summer from April, though at times temperatures shoot up to 48 degrees Celsius at day time.
Alternatively, if you think summer is not favorable for you to visit Rajasthan, you can head to Mount Abu, Ranakpur, or Kumbhalgarh.
Comparatively, monsoon season is favorable .this is because the temperature during this time drops drastically, followed by light rain showers that fall to change the arid atmosphere.
September can be a more favorable time to visit in case you are looking at a situation where you want to avoid crowds associated with pick tourist seasons.
Some aspects of Rajasthan that you should try out during monsoon in case you are planning to visit Rajasthan is touring the city of Udaipur, Keoladeo National Park, among other areas.
Passing of monsoon ushers in October winter, which goes on till the month of the match. On the other hand, December and January experience variation in temperature at night and during the day.
This is the best time to visit Rajasthan since temperatures are not so hot during the day though extremely low during the night at times up to 0 degrees Celsius.
Most festivals are rolled out during winter target tourists across the world; hence this can be more interesting for anyone interested in visiting for a holiday or family outing.
Visitors hoping to visit should opt for the best climatic condition that favors them to avoid inconveniences that they may encounter in the process.
Generally, Rajasthan has a myriad of seasons that you need to watch out on before making visiting arrangements.
How to travel for visiting the best places in Rajasthan
Rajasthan is a renowned tourist attraction destination in India . Tourists visiting the come from various places in the world to enjoy the rich architecture and see the Indian culture from multiple aspects of tourist attraction centers and activities.
Rajasthan is accessible from other cities through various modes of transport. Travelers have the option of using any means of transportation, including rail, air, or road, due to proper interconnection with other cities.
A good transport network is essential for the movement to facilitate visitors with easy access to various tourist attraction centers. In this regard, Rajasthan has well-connected transport systems that you can use to access multiple locations within the city.
By Air
India's city of Rajasthan has access to main airports that visitors can utilize to get into the city and enjoy themselves. India's Indira Gandhi International Airport, located in Delhi, is one of the closest airstrips that visitors can use to find Rajasthan.
The airstrip has consistent flights linking Mumbai, Jaipur, Udaipur, including Delhi. Additionally, Udaipur and Jodhpur airports have numerous trips that allow easy access for tourists in the state.
By Rail
Express trains from Mumbai provide easy access to Rajasthan. Udaipur, Bikaner, Jodhpur, and Jaipur have access to fast rail transport. This allows easy movement of locals and visitors in and out of Rajasthan.
Moreover, the fast rail transport links Jaipur to major cities, among them Mumbai, Delhi, Chennai, Hyderabad, Kolkata, and Bangalore.
The 4600-kilometer railway line boosts transport across the cities, thereby making it easier for individuals to move around with ease.
By Road
Rajasthan has the best road network, which enables movement within the city easier. Road network s stretching up to 5655 km passing through Udaipur, and Jaipur offers a vast travel network by road.
This is coupled with a four-lane road connecting Jaipur and Agra and accessible state highway stretching 8627km. A good road network is critical to promote easy movement within the city.
Poor road network hampers easy access to various locations, which might adversely affect movement to and from multiple locations.
In this regard, Rajasthan has the best transport system making it one of the best locations you should try out