Places to visit in Rishikesh
12 Magical Places to visit in Rishikesh
It is almost impossible to put the grandeur of Rishikesh in words and vividly bring out the charm this magical destination has. The "Gateway to the Garhwal Himalayas" is no ordinary Indian tourist destination, at least amongst sworn religious fanatics and mad adventure lovers. If you need an idea of the best places to visit in Rishikesh, then we've got you. In this list, you will discover lots of amazing things to do in Rishikesh, including a bit of yoga. Please email us or WhatsApp @ + 91 9899328185 for any assistance and information.
Rishikesh sits strategically at the base of the planet's highest ranges, the Himalayas. This pilgrim's favorite city is Indian's 7th biggest and a major tour hotspot, especially with its countless stunning vistas, shrines and yoga ashrams.
Yet, for most of those visiting this little paradise, thrill and marvel is in an overabundance. A dip in River Ganga, experience aarti on the Ganges, a photo on Lakshman Jhula Bridge, an afternoon spotting tigers at Rajaji Tiger Reserve, or simply an epic wildlife safari, you will have an unforgettable vacation.
To top this up, we'll head out to Haridwar, another holy town located a few miles away to complete a round trip of the 'twin national heritage cities.'
12 of the best places to visit in Rishikesh
Rishikesh located apex. 240 Kms from Delhi is among the few Indian cities known to offer a variety of adventure activities. It is quaint, picturesque and historical with lots of fantastic sights and sounds. But before you get to discover the best place to visit in Rishikesh, here's a fun fact.
Did you know that liquor and non-vegan foods are a no-no in these 'twin national heritage cities?' As you include that in your Rishikesh tour packages, let's see which these places are.
Laxman Jhula
In 1939, Rishikesh commissioned an icon that had remained a major attraction for decades, Laxman Jhula suspension bridge. This 450-foot long, 70-foot high bridge lies across River Ganga and has as much religious significance to the city as it has economically.
A Hindu folklore postulates that Laxman Jhula is built is the exact-same spot where Lakshmana erected a jute rope and crossed this giant river. And so, as you stand at this bridge, probably taking a shot or looking down at the river, don't forget to celebrate Lakshmana, who inspired its construction.
Neelkanth Mahadev Temple
Pilgrims flock Rishikesh every day, and one of their favorite spots is Neelkanth Mahadev Temple, and it's easy to see why. Upon setting foot to this temple located 1,675 meters above sea level, the engulfing aura and serenity is enough to cleanse the soul.
It opens daily, from 6 am to 7 pm, and throughout the day, both those who worship Lord Shiva and tourists merely visiting turn this temple into a buzzing spot. An hour admiring the temple and the shrine plus souvenirs is enough to remember Neelkanth Mahadev Temple forever.
The Beatles Ashram
Before the Beatles brought fame to the Maharishi Mahesh Yogi ashram, this now-famous adventure spot was a gem not known by many. Today, it is an oasis of peace and serenity – a place that quickly leaves visitors spell-bound.
As one of the best places to visit in Rishikesh, the Beatles Ashram is also an embodiment of arguably the best things to do in Rishikesh. You will sit back, relax, and meditate at the same hall where the Beatles meditated. Just a quiet session of intense meditation, and your soul is spiritually at peace.
Swarg Ashram
It is an experience of a lifetime meditating at the oldest ashram in India and possibly all over the world. Swarg Ashram still serves its purpose, thanks to its strategic location – an isolated river bank.
Baffling about this spot is the inspiration behind its construction. Apparently, it was built to celebrate Swami Vishudhanand. If you would love to relax and enjoy your vacation in Rishikesh, perhaps watch the golden rays of the sun as it sets, Swarg Ashram is the place to be.
Parmarth Niketan
You may have enjoyed the aesthetic beauty of the oldest ashram in India, meditated, or learned some yoga. Now imagine how that would feel being at another ashram that sits amidst the stunning lush greenery of the Himalayas?
Parmarth Niketan is no ordinary ashram – it is the largest in the city and one of the most visited. This ashram takes ambiance, serenity and relaxation to a whole new level, thanks to its 1,000+ rooms specifically devoted to pilgrims. Major activities in this ashram include yoga, meditation, chanting and singing hymns.
Rajaji National Park
It would be a huge mistake to holiday in Rishikesh and miss visiting Rajaji National Park. It is conveniently close to the city center and has a rich list of plants and animals. On an ordinary day trip to Rajaji, you will not only marvel at the refreshing vibe, but also admire the beautiful landscape. Spotting a tiger is never a guarantee unless you are lucky.
Kaudiyala
Yet another absolute must-visit destination, Kaudiyala sits along the Rishikesh-Badrinath highway. For adrenaline junkies and sightseeing enthusiasts, this breathtaking viewpoint is priceless. Break the boredom with a bit of camping, zip-lining, hiking, or whitewater rafting at Kaudiyala.
Shivpuri
This little town on the outskirts of Rishikesh is a blossoming adventure spot. A temple dedicated to Lord Shiva kept pilgrims visiting, but not anymore. Today, Shivpuri is a water rafters' paradise, thanks to the mighty River Ganges that flows nearby. Hikers, campers, and rock climbers also have this town city all for themselves.
Kunjapuri Temple
Temple treks are famous, all because of one of the best places to visit in Rishikesh: Kunjapuri Temple. It is perched at the height of 1,700m above sea level, but for hikers who successfully manage to arrive at the temple, views of the snow-capped Himalayas at a distance are awe-inspiring.
Mornings in Kunjapuri Temple are heavenly too, thanks to the golden rays lighting up the Doon valley to create jaw-dropping panoramas. If you would like to hike your way up to this beauty, make it an early morning trek to capture the sun as it rises from the Himalayas.
Triveni Ghat
It sits along the mighty Ganges River and rightly acts as an alternative to the river when pilgrims arrive for the annual evening aarti. Triveni Ghat gets crowded with devotees who come for a bath, thanks to the fact that it is a congruence of Rivers Ganga, Yamuna, and Saraswati. On the actual day of aarti, key highlights include sights of lambs floating freely in water and multitudes jostling for a dip.
Rishikund
Rishikund is one of the most important places to visit in Rishikesh, as it has every visit that has a mystical attachment. The 'Pond of the Sage' essentially is a natural hot water spring, which the locals believe Goddess Yamuna blessed it. According to the locals, the spring also symbolizes the goddess who they believe resides in Rishikesh.
Triveni Ghat is a little distance from Rishikund, and locals have a rather preposterous reason why this is so. On your visit, therefore, you will learn how the two correlate, plus how it came to be that Goddess Yamuna possibly stays in Rishikesh.
Neer Garh Waterfall
The last on this list of the most important things to do in Rishikesh is to visit Neer Garh Waterfall. This natural beauty is located about 2km from Laxman Jhula, and it doesn't matter whether you are a nature enthusiast or not, the experience is easily amazing.
Neer Garh Waterfall guarantees that much-needed relaxation as the place is serene, mesmerizing, and enchanting. For an even better outing, be sure to arrive early as crowds of photographers, adventure enthusiasts, and tourists, in general, quickly fill up the area.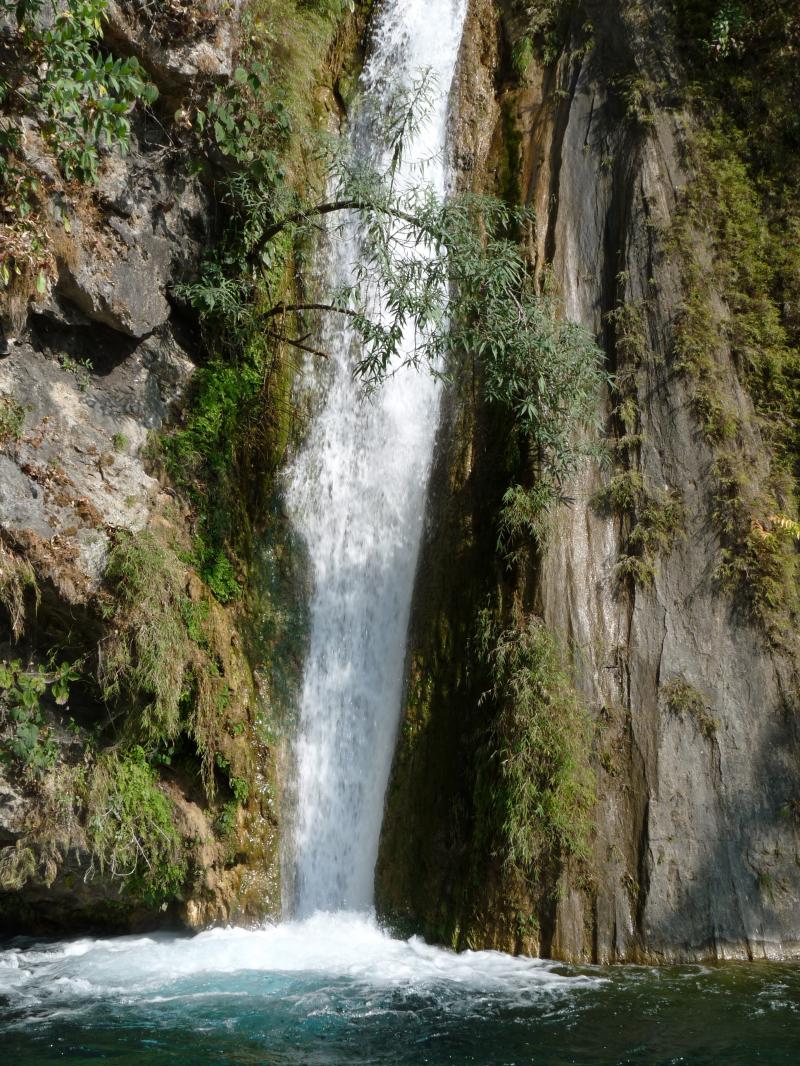 If your Rishikesh tour packages don't contain these wonderful places to visit, then you have missed something. The 'Yoga Capital of the World' is sure to charm and glam your holiday, especially if you love the serenity and tranquil escapades. Back your backpack and head to Rishikesh!