Places to visit in South India
South India tourist places :

Our travel guide sharing the best Places to visit in South India
On a thrilling tour of India, you've got no better way to discover the hidden gems of food, fun, and adventure than with a trip down south. Welcome to the subcontinent's steamy heartland and a region where the heart and soul of India lies. Discover the best places to visit in South India ; explore its cities and villages where every destination pulsates with vibrancy and excitement. From Mumbai and Delhi to as far south as Kerala, Andhra Pradesh, Karnataka, Tamil Nadu, and Telangana, you have a hell lot of places to visit and countless sights and sounds.
Need to ditch the crowds and gallivant your way to the best of South India tourist places?
Well, you should.
South India is a little paradise with lots of spectacular places to visit here on earth. It has several centuries' old temple architecture, historical monuments, and palm-fringed channels to explore and lots of charming and charismatic locals.
Visit and explore this beauty and mystery package, topped up with incredible must-sees, and discover why South India is a good escape. We have curated the greatest ten places to visit in South India and come up with the following destinations.
Top places to visit in South India
Hampi, Karnataka
Visit the city of Hampi, a UNESCO-protected World Heritage Site and the last capital of Vijayanagar. Vijayanagar was possibly the greatest Hindu empire, and even as ruins of the 14th-century behemoth stand, the over 1,600 monumental remains tell of how ingenious the long-gone generations were.
A tour of this grandiose historical beauty would be enthralling, primarily because this 4187 hectares (16-square-mile) treasure is still in its original condition. On offer are dilapidated forts, enormous rocks, and monoliths. Among the beautiful sights are Virupaksha Temple, Hazara Rama Temple, and Hampi Bazaar.
Mahabalipuram, Tamil Nadu
Steeped in profound culture and complex history, Mahabalipuram's coastal town is a fantastic surfer's paradise as it is a melting pot of ancient heritage. You will have the massive number of intricately-decorated, rock-cut temples and monuments to marvel at and ponder how advanced ancient civilizations were.
Mahabalipuram is now a UNESCO world heritage site and equally a favorite among tourists from across the planet. Among the greatest wonders worth visiting include Shore Temple, the beautiful, chariots-like Pancha Rathas sculpture, and Arjuna's Penance. If surfing is your hobby, then rest assured you will have a fantastic time conquering its waters.
It is essential to mention that Mahabalipuram is always at the center of several high-octane classical dance festivals every year. If you plan your visit well, it might coincide with one of them and perhaps enjoy a little known picturesque and spiritual side of this charming town.
Alleppey, Kerala
Of all the fantastic places to visit in South India, Kerala is perhaps unmissable, and it's easy to discern why. From the dramatic backwaters and mesmerizing houseboat cruises to surfs on the same, often-crowded waters, Kerala is an epic adventure destination.
Alleppey or 'Venice of the East' is one fantastic destination. From a cruise along the palm-fringed canals, experiencing the serenity of the backwaters, to a trip down to Marari Beach and Krishnapuram Palace is an experience you might never forget.
But Kerala isn't just about the cruise trips and surfing on its gentle waters. For foodies, no other place is perfect for an authentic Indian dish than the food courts, street food stalls, and restaurants of Alleppey. That, plus cold beer, chilling on a hammock tied to coconut trees, is easily the most soothing experience throughout your whole trip!
Pondicherry
You might have stumbled upon one of the several YouTube clips about Pondicherry and instantly fell in love with its charming feel. Yes, Pondicherry (aka Puducherry) is a little French outpost deep inside India, albeit an ancient one.
A trip around the 'French Capital of India' is sure to conjure memories of Paris, Nantes, or any of your favorite French cities. Years old French architecture, some pristinely kept, colorfully painted French Quarters and a general backpacking aura should endear you to this magical city.
But far beyond absorbing the tranquility of this town, exploring its colonial-era buildings, churches, and temples, you will have its unwelcoming beaches to visit. And later in the day, a road trip to Auroville and a dinner in one of the tasty cafés should wind up a day well spent. But remember to stop by Sri Aurobindo Ashram, the Museum and, of course, Basilica of the Sacred Heart of Jesus.
Mysore, Karnataka
It would be an unforgivable mistake to list down South India tourist places and forget one of the greatest destinations. Mysore is only second to Bengaluru in Karnataka, yet its fame and popularity across India is unmistakable.
Forget about the Dussehra celebrations that attract tens of thousands every year, Mysore is among the best places to visit in South India because of its charming attractions. All the royal buildings, state-of-the-art amusement parks, museums and temples are outwardly incredible.
On any calm summer night, Mysore comes alive with lovebirds and honeymooners. After an entire day of rejuvenation, including a visit to India's grandest palaces, a peaceful night marveling at the breathtaking 10,000 lights is incomparable.
Madurai, Tamil Nadu
Tamil Nadu is among the top places worth visiting in India, all because of the over 4,000-year-old city of Madurai. Unlike other popular Indian towns, Madurai is calm with a beautiful atmosphere and a noticeable feel of the native Tamil culture.
If there's one temple you must never fail to visit in South India, then it has to be Madurai's super-magnificent Meenakshi Temple. It is as old as Madurai itself, yet a powerful pilgrims' magnet.
Aside from the temple, other magical attractions include the 17th-century Tirumalai Nayak Palace and the 19th-century Saint Mary's Cathedral. If you also fancy Indian festivals, then watch out for the 12-day Chithirai Festival and purpose to attend.
Lepakshi, Andhra Pradesh
In the tiny Anantapur District of Andhra Pradesh is another rare tourist gem called Lepakshi temple. The temple isn't just an embodiment of timeless craftsmanship and jaw-dropping ingenuity of India, but also a highlight of how religious the locals are.
The temple is devoted to Veerabhadra, but also serves as a hot tourist attraction. On a visit to Andhra Pradesh, you will have this temple as well as the Skanda Purana and a lesson about the journey of Lord Shiva.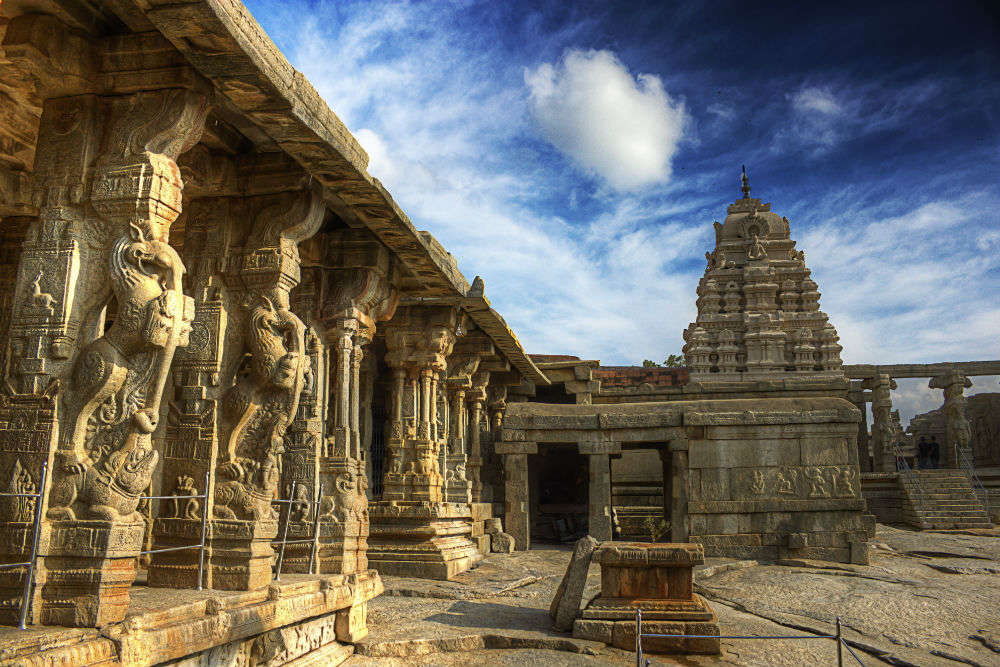 Munnar, Kerala
Kerala is the heartbeat of South India and a top tourist destination, all thanks to its breathtaking sights and sounds. Munnar is one such jewel, and, undoubtedly, this little-known gem is a sightseer's paradise.
From the lush-green, impeccably beautiful tea plantations covering Kerala's rolling hills to the picturesque waterfalls and the crystal-clear lakes to Tea factory visits, Munnar is inviting. And like a destination straight out of a fairy, no better way completes such a tour than with a visit of the Anayirangal dam for a kayaking expedition.
Ever wanted to take photos of Kerala's wild elephants walking in groups? Or, fascinated at the endangered Nilgiri Tahr deep inside the state's dense mountain forests? Well, Mannar has them all for you at Eravikulam National Park
Kabini, Karnataka
Still on the best places to visit in South India, Kabini is one fantastic area whose fame is unsurprising. Nagarhole is rich in wildlife and charms with a panoramic lake, and yet a fantastic tourist destination.
One key attribute that endears vacationers to Kabini is its rich flora and fauna. On an ordinary afternoon in its main wildlife park, you are almost guaranteed to spot a tiger, a leopard, or a wild elephant. Nagarhole also has a decent population of chitals, various deer species, the 4-horned antelopes, wild boars, sloths, hyenas, and mongooses.
Thanjavur, Tamil Nadu
The best places to visit in South India couldn't have ended without almost everyone's instant favorite; Thanjavur. The culture heartbeat of Tamil Nadu, temples, art, and handmade stuff are in an overabundance in a town supposedly named after a demon that Vishnu killed.
But this destination is also history-rich. A once-thriving capital of the mighty Cholas of the 11th-14th century still has the original charm attributed to the defunct Chola rule even as it's now a famous city. On a little walk across Thanjavur, you will discover many grand structures that tell a lot about the civilizations long gone.
Essential points of interest in Thanjavur include the Thanjavur Royal Palace, the Vijayanagar fort, and Saraswathi Mahal Library.
Before you tour the best places to visit in South India
These aren't the only South India tourist places, and as you will discover, many more spots are along the way. However, you must understand that in the southern part of this vast subcontinent, almost every state has not only its language, and food, culture, and general ways of life vary.
Furthermore, the economic inequality that's more prevalent up north is a bit more blurred in South India. The road network is reasonably excellent, and the weather isn't unpleasant either. As such, you will enjoy the beauty of its cities, interact with the locals, and pretty much enjoy the whole trip.
Let's hit the road and explore the best places to visit in South India; shall we?