Places to visit in Lucknow
Planning a trip to Lucknow ? here we are sharing all the information for the best places to visit in Lucknow
Lucknow is a city in India that makes a great tourist spot. Not only is it culturally rich with it's history, it is also a relaxing getaway. To help you plan the perfect vacation, we have gathered all the travel information for Lucknow that a first time visitor will need. Follow our travel guide for the best places to visit in Lucknow to ensure the wonderful experience of this beautify city full of monuments.
Lucknow city is actually the capital of Uttar Pradesh which is the most populous province of India. Even in today's modern era, the local streets of Lucknow depict it's true culture. Every local person you meet will show you some part of Lucknow's history in his or her mannerism. Some very famous features of the city's culture include Kathak dance, architecture, royal food and unique kinds of fabrics. Even the name of the city is derived from it's history. Lucknow used to be the abode of the Nawabs of Avadh. If you speak Urdu, Hindi or English, you can get around the city without any communication hassle. The city does not only have great cultural importance for Hindus, it also the home to many importantly Islamic monuments. Lucknow depicts religious tolerance in its simplest form which only adds to the beauty of the city.
When to visit Lucknow
The most important travel information for Lucknow is about the ideal time to visit the city. Generally, Lucknow is a warm city. Even during the winters, the temperature doesn't fall down to an unbearable degree. However, it can sometimes get too hot during the summers. While Lucknow is welcoming all around the year, the best time to visit it is from November to March. Moreover, people who do not like crowds should avoid these months. In conclusion, you can use our travel guide to visit Lucknow any time of the year. To prevent yourself from hot and humid experiences, do not plan your trip during June or July. July to September is monsoon season. The rainfall is not too heavy. However, keep this factor in mind while planning your trip.
How to reach
Getting to Lucknow is as easy as it can be. There is an airport in Lucknow which is just 15km away from the main city and it is very well connected to major cities of India like Delhi, Jaipur, Bangalore, Chennai, Mumbai etc. You may also opt to travel by road or train. Other than luxury buses and trains, you can also drive to Lucknow from nearby cities. As for rail, the Charbagh Railway Station is located inside the city at a very central location.
Best places to visit in Lucknow
Bara Imambara 
As previously mentioned, the city is well known for its architecture. You'll find extensive art in gardens too. Bara Imambara or Asafai Imambara is an example of this. It was constructed back in 1784 on the orders of Nawab Asad-ud-Daulla. Kifayat Ullah had the honor of designing this place. His forefathers were among those who designed the Taj Mahal. This location was used by the Nawabs for public hearings. On your visit, you'll find that the place has a number of paths that make it look like a maze. Once you get through these maze like corridors, you get to the main hall. This is where you'll see beautiful woodwork along with iron and stones used to accentuate the beauty. There is a top floor in the Imambara as well. Make sure that you don't lose your guide in this place or the corridors could really confuse you. Some paths will lead to nothing while only the right corridors will get you somewhere.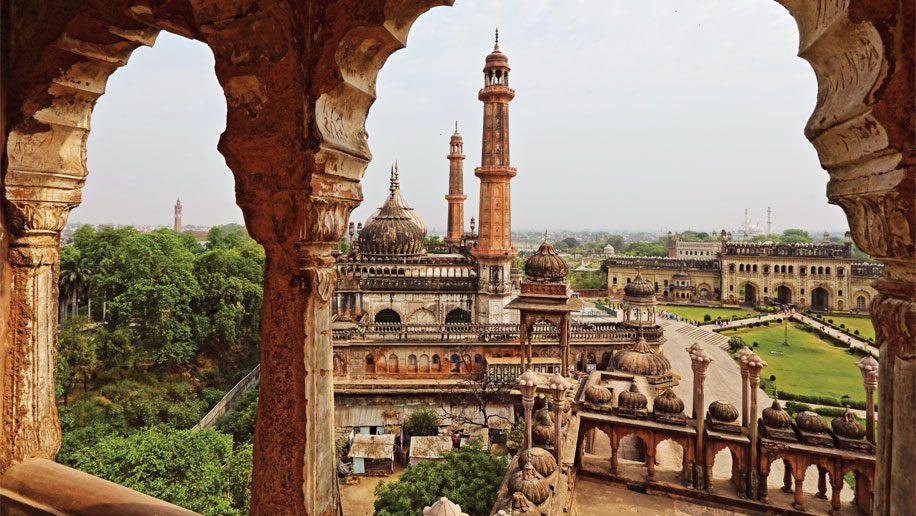 La Martiniere
La Martiniere is a school but why we recommend visiting it is for its noteworthy achievements. Not only is this known as India's best educational institute, it is also the only school in the world to have received Battle Honors. This honor is credited to the role played by the students and staff of this school during the 1857 Sepoy Mutiny. It is a high school level institute that offers Science, Commerce, and Humanities. It first started teaching Indian students in 1845. After the incidents of 1857, the school started training the boys which is why they so readily took part in the future wars. You may wonder how a visit to a school will be fun. The truth is, this is one of the most popular tourist destinations of Lucknow. If you're visiting in November, you can attend the annual athletic show held by the school. In this show, the four houses of the school compete by putting up a great show. You'll also get to experience orchestral activities in this show. Otherwise, you can always experience and appreciate the mind blowing architecture.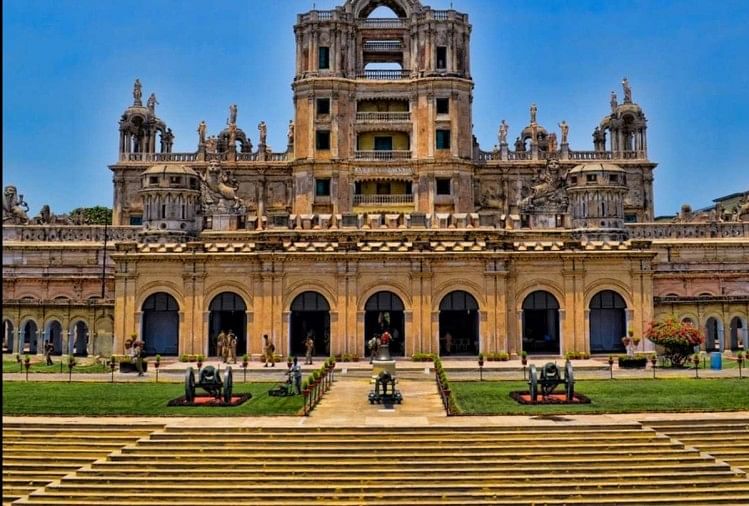 Tomb of Sa'adat Ali Khan and the Begum 
These tombs are twin maqbaras where Sa'adat Ali Khan and Khurshid Zadi rest. It is among the tourist destinations that you should visit in the start of your trip. The reason why these tombs are so famous is Avadh architecture that can be observed in its truest form. The twin maqbaras are very symmetrical. With similar domes you'll also find mesmerizing kiosks. It is a beautiful spot. These tombs are located near the Begum Hazrat Mahal Park which is itself a beautiful site. These tombs are a must visit place. You will surely be left in awe by the elegant architecture and mind blowing symmetry.
Kaiser bagh Palace 
The beauty of Kaiserbagh Palace can be estimated from the fact that the Nawab who owned this palace regarded it as the eight wonder of the world. This beautiful palace was constructed on orders of Wajid Ali Shah who was the successor of Muhammad Ali. Wajid Ali is famously known for his love of arts and architecture rather than for his administration skills. The palace has been in existence since 1850 whereas the actual construction of the site began in 1848. Of course, Wajid Ali put in extra details in the design of the palace due to his undieing love for architecture. His aim was to create a heavenly garden with exquisite detailing. You won't be able to experience the true architecture of the palace since parts of it have bared some damage. You will, however, get to the structural beauty of minarets, Hindu umbrellas, banisters, etc. In the center of the palace stands proudly Baradari which is made in white stones. Before it completely washed off, this Baradari structure was actually coated in silver. Be prepared to experience a fusion of European style and Indian architecture when you visit this palace.
Shah Najaf Imambara 
Shah Najaf is a title used for Hazrat Ali who is an important figure in the religion of Islam. Hazrat Ali was not just the son in law of Prophet Muhammad (PBUH) but also a great warrior as well as the fourth caliph. His bravery earned him the title of 'Lion of Allah'. Shah Najaf played a vital role in the days when Islam and Muslims were not so strong. His sacrifices for the religion are uncountable. For this reason, Muslims hold him at a special yet sentimental position. This Imambara is named after him. The tomb of Ghazi-ud-Din Haider lies here too. His wives are also buried next to him. Nawab Ghazi-ud-Din Haider was the person who got this Imambara built to serve as Hazrat Ali's mausoleum. It is located on the right side of river Gomti. Other than its religious importance, the place is a beautiful site too. With its lush garden and exquisitely designed tombs, it is a famous tourist spot even for non-Muslims.
Clock Tower 
The clock tower of Lucknow was built between 1880 and 1887. It is an easy to visit tourist spot considering how you can easily fit it into your schedule. Since clock tower is located near many other famous spots, you can pay a quick visit without having to plan an extensive trip. Hussainbad Imambara and Rumi Darwaza are the two most famous spots near this tower. As for the tower itself, it is 67 meters tall. Located near river Gomti, this is said to be India's tallest tower. The actual clock is designed with 12 petals to look like a flower. The pendulum of the clock is 14 feet long. If you want to experience European style in India, this is the place to go.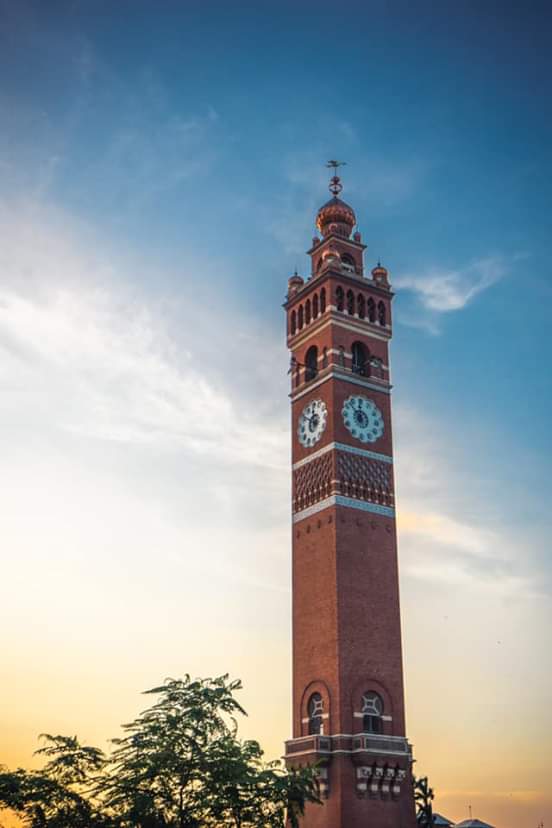 1857 Memorial Museum, Residency
This museum is one of the few spots that every travel guide will recommend. There is hardly a person who visits Lucknow and doesn't visit the 1857 Memorial Museum, Residency. You will learn a lot of historical events by visiting this place. Make sure you get an expert guide to let you in on all the amazing facts about the museum and what it holds. You'll get to see some unique artifacts as well as experience the remains of some very well known events such as the Sepoy Mutiny. You'll also find relics from the first Indian Independence war. Other than the numerous antique objects, you'll also get to see many photographs, paintings as well as some very interesting documents.
Lucknow Residency
The last must visit place in our travel guide to visit Lucknow is the Lucknow residency. 1857 was an important year in the history of India. During the Sepoy Mutiny that year, pretty much every European of the city took shelter in this residency. The uprising went on for almost 140 days and during that time, this place served as the safe shelter for over 3500 people. The building was built during the 1800s and the citizens of Awadh are truly thankful for it. After the siege of 1857 was over, it took 5 months to recover this place. The red brick building was elegant in its own way. However, to further enhance its beauty, the walls were surrounded with lush green grass and beautiful flowers. Despite the additional efforts to make the place look good as new, some effects of the siege are still visible. These include cannon shots on the walls and an everlasting silence inside the building despite the echoes of the visiting crowds. Sir Lawrence, who took responsibility of looking after the 3500 refugees is buried in here as well. Other than that, you'll find at least 2000 more graves as well as the remains of what used to be a church once.
Make sure you visit as many of these places as possible. Our travel guide for the top places to visit in Lucknow has you covered! You can enjoy your vacation with all the required travel information for Lucknow without any worries!