Places to visit in Udaipur
Planning a trip to visit Udaipur ? Here we have covered all the best places to visit in Udaipur, the city of Lakes
If any city in India, especially the Rajasthan region, can hit the top of the scale of romanticism and heritage, it is definitely Udaipur. Nestled near the Aravalli hills, which separate it from the Thar desert, the city boasts some of the godly sites that can open doors for you to relaxation, meditation, and a complete shift of paradigm about the way you lead your life. We welcome you with our folded hands to explore the best places to visit in Udaipur.
Udaipur, known as the city of lakes, is a treat to one's visual senses. A tour to this city is going to be an unforgettable experience of you because of its interesting stories, delicious local cuisines, and picturesque tourist spots. In addition to that, the city boasts of a glorious history. It depicts the bravery of Rajputana since many years.
Initially founded by Maharana Udai Singh, a bud of the progeny of Mewar rulers and kind of Udaipur in around 1557 A.D, Udaipur is known as the city of lakes. Of course, where there are plenty of lakes, it is inevitable for lovebirdsto flock in great numbers to it.
Besides being a destination for newlyweds and soul mates, the city boasts plenty of sassy places that anyone who wishes to have a great Indian tour can enjoy. There's something for everyone. So, if you're a historian looking for places to peek into the history and religion, a hiker who wants to explore the harsh environment of a desert nearby and the hills snaking through it, or just someone who wants to delve into the incredible culture of the Rajasthan region, you shouldn't waste any time and hop on a plane to Udaipur. 
How To Reach :
Udaipur is easily accessible from all major cities.
By Air: There are daily directly flights from Delhi to Udaipur, Jaipur to Udaipur and Mumbai to Udaipur. The airport of Udaipur Maharana Pratap or Dabok Airport is located at a distance of 22 km from the city of Udaipur.
By Train: There are daily trains operating from Delhi to Udaipur, Jaipur to Udaipur
By Road: Udaipur is very well connect by road.
Jodhpur to Udaipur (270 KMS)
Pushkar to Udaipur (280 KMS)
Ahmedabad to Udaipur (270 KMS)
Planning to visit this beautiful city, here we have listed the best places to visit in Udaipur
City Palace (Entrances INR 330 pp for all)
Since Udaipur was ruled for decades by the Mewar family, anyone who wishes to see their ultimate grandeur and royal exquisiteness should visit the City Palace. Lying peacefully on the banks of the Lake Pichola, the palace has some great art galleries, a vintage car museum, and seclusions like the Maharani Palace, Daawat-i-Khas, and Daawat-i-Aam.
Every evening the palace rings with sounds of music and glimmers of light as the Mewar Light and Sound Show is organized on a regular basis. It is actually a 12-episode theater that depicts the history of the Mewar rulers in all its splendor.
Jagdish Temple
For anyone who wants to study Hinduism or just want to marvel at the architecture of the temples in India, no place can be better to do it than visiting the Jagdish Temple. Located just beside the Badi Pol entrance of the City Palace, the temple hosts the deity of Lord Vishnu and his vehicle called Garuda. It is basically a complex of small shrines where aside from the Lord Vishnu, other gods, such as Lord Ganesha, Goddess Shakti, Lord Shiva, and the Sun God, also preside in their respective temples.
On a daily basis, the temple sees an influx of devotees and tourists alike.
Garden of Maidens (Entrances INR50 Foreigners / INR15 Indians)
Locally known as the "Sahiliyon ki Bari", the Garden of the Maidens is located in the northern part of Udaipur and was built by Maharana Bhopal Singh for Princess of Udaipur and the accompanying maids. The garden is a splendid exhibit of the ancient touch of glamour located in a modern metropolis. The purpose of the garden at the time of the reign of Mewar rulers was to provide a seclusion for the maidens of the house of Mewar so that they could freely sing, merry, and enjoy their time in the premises of it, away from the prying eyes of the locals, and not to mention, the threats.
So, if you've ever watched any of the Bollywood movies depicting princesses dancing with their maids in ultimate joy surrounded by mesmerizing music in some garden, know that the Garden of the Maidens would have hosted similar events.
Lake Pichola, undoubtedly, is one of the most prominent spots in the city. Thousands of people visit Udaipur to witness the beauty and serenity of this lake. Categorized among the most beautiful ones, this man-made lake is 4km long. While you are visiting this lake, do not miss out on the opportunity to enjoy a boat ride on the lake; it will double up the fun of visiting this beautiful lake. The adventurous boat ride begins atRameshwar Ghar, located in the City Palace.
Taking this ride is also recommended as you will get to see numerous other attractions of the lake. These include two famous islands of the lake Jagmandir and Jagniwas; you must visit both these islands during your trip to Lake Pichola. At Jagmandir, you will get to see Jag Mandir palace and witness its grandeur while Jagniwas Island is home to the Taj Lake Palace, a place not to be missed.
Boat ride during the sun set time is surely going to be an experience that is going to last for a lifetime.
Jag Mandir : No entrances applicable
A temple sitting with all due pomp and show in the middle of the Lake Pichola, Jag Mandir was created in the 17thcentury. Therefore, aside from providing a glimpse into the architectural and historic meaning of Rajasthani culture, it also gives you an unforgettable view of the silent waters of the lake. It is a collective package of a three-storytemple with its central building depicting the level of faith the devotees had built it with. Surrounding this structure are sections worth visiting, like Garden Courtyard, Darikhana, Bara Patharon ka Mahal, Zanana Mahal, Kunwar Pada ka Mahal, and Gul Mahal.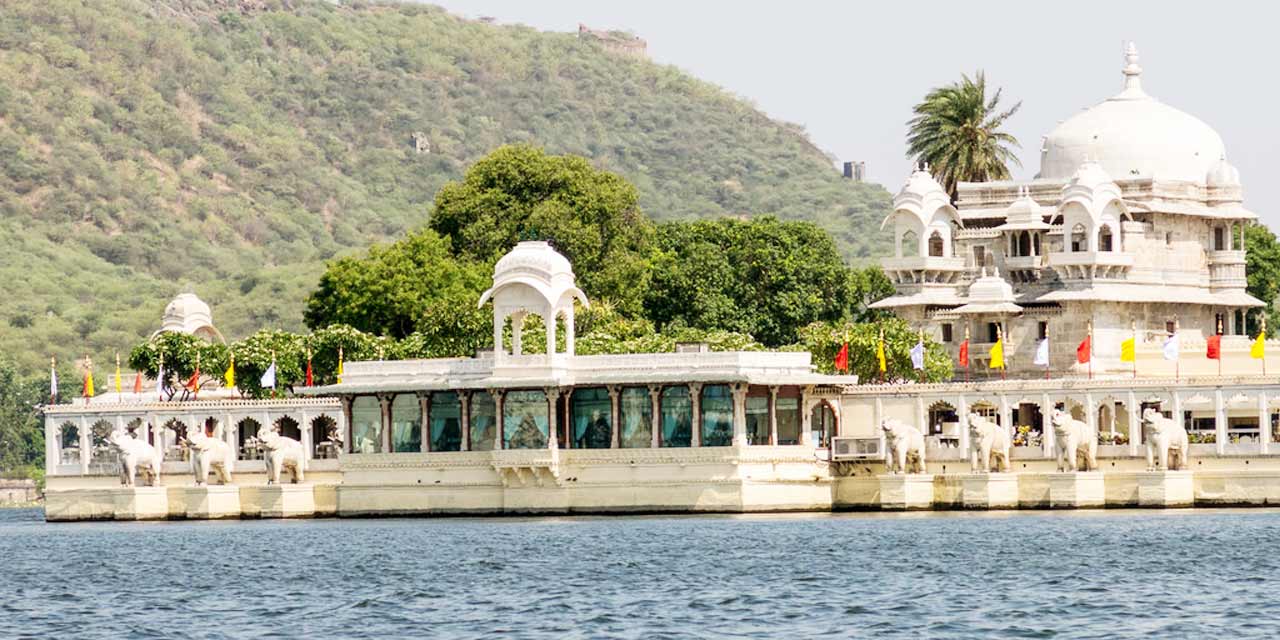 Bhartiyalok Kala Museum 
If you want to peek into Rajasthani culture, this is your place to be. An ideal place for history lovers, you can find a lot of ancient collections that depict Rajasthani culture in there.
Located in the Chetak Circle, BhartiyaLok Kala museum contains ancient paintings, musical instruments, dresses, jewellery, dolls, and puppets are some of the things that were used during the royal era. It is a Dalet-like entrance tower that also hosts an entertaining puppet show, which your kids are surely going to enjoy.
Bagore Ki Haveli : Entrances INR150 Foreigners / INR90 INDIANS / INR150 CAMERA
Another not to be missed place in Udaipur is the 18thcentury building standing tall with its grandeur and splendour called Bagore ki Haveli. Located close to Pichola Lake, this building got its name in honour of Bagore's Maharana Shakti Singh, the last resident occupant.
This building offers a mesmerizing view of the Lake Pichola that you will get from no other spot. Visiting this building and exploring it is strongly recommended if you are visiting Udaipur since it givesyou a glimpse of the royallifestyle. The amazing architect of the haveli attract tourists from across the globe. The building consists of 100 rooms that are beautifully decorated with exceptional mirror work. Furthermore, you can also visit a museum in this haveli in which you can find things used by the royal maharaja and maharanis. These things include traditional jewelleryboxes, hukkas, nut crackers, vessels, paintings etc.
When visiting Bagore Ki Haveli, make sure you attend the culture shows that often held here during the evenings where you can see the locals performing various dance and music shows.
Ahar Royal Cenotaphs
If you are fond of history, Ahar is definitely going to be feast for your eyes in your Udaipur tour. It the royal cremation ground that exudes royalty because of its splendour build. Although located at a distance from other top attractions of the city, it is definitely worth a visit because of its amazing architect. In this cremation ground, there are 372 memorial monuments; however, the most attractive of the lot if of Maharana Sangram Singh.
This is definitely recommended to visit if you are looking for a calm and serene experience. Just sit on the step of Ahar and appreciate the majestic architect of this place; you wouldn't forget this experience ever.
Monsoon Palace / Sajjangarh Palace : Entrances  INR300 foreigners / INR30 Indians
Monsoon palace is another great attractive spot that offers astonishing views of the city. Built on a hill, this palace is known to be one of the most frequently visit places by the royal family, particularly in the monsoon season. Hence, it got the name 'Monsoon Palace'.
Particularly famous for the captivating sunset views, this hilltop palace is surely worth a visit. You will get to see a different view of the city from an elevated spot. Visiting this palace during the monsoon season will give you the feeling as if it is floating on the clouds.
To double up the fun, visit the nearby Sajjangarh Wildlife santuary. Monsoon Palace is located around 9kms away from the Old city of Udaipur.
Shilpgram
Want to get a real feel of Indian villages? Shilpgram, a craftsmen's village, has everything for you. It is a beautiful place in Udaipur, where you can learn a great deal about the culture of different Indian states. It is also a shopper's haven since they can buy amazing traditional dresses, antique jewellery,andother valuable items.
Shilpgram is a government owned complex where you can also enjoy camel and horse rides. Furthermore, if you are fond of traditional music and dance, you can get to enjoy them here. Ideally, it is recommended to spend at least a full day here that you can explore all that Shilpgram has to offer to the maximum.
Apart from Rajashtani culture, you can also get to know about the traditions followed in Maharashtra, Goa, and Gujrat. An Udaipur trip without visiting Shilpgram is definitely an incomplete one.
Palki Khana and Ambrai 
A tour to any place spent without tasting the delicacies of that particular area is a tour wasted. Therefore, if you're in Udaipur, or you're planning to be here, you should definitely visit Palki Khana. It is a café designed and built by keeping the royal ambianceof the city contained in it. Not only the placebut also the seating and the delicacies offered here represent the rich history and the utmost taste of the cuisines of Rajasthan.
The prices are reasonable and the atmosphere is just right for couples who want to dine in the grandeur of Indian culture.
Unlike Palki Khana, Ambrai restaurant offers multi-cuisines and it is a little expensivebut totally worth its breathtaking location and the romantic ambiance.
These were the top destinations you can visit while staying in the Udaipur city. But these aren't the only attractions that can awe-struck you and make your tour unforgettable, the best way to know the city is to go out an explore it with the help of an experienced tour guide. We're always up to be that for you and present you some of the best Udaipur tour packages that we have. For example, by hiring us, you could also have a chance to go on excursions to famous places near Udaipur like the following ones.
Excursions from Udaipur : Top places to visit in and around Udaipur
Eklingji Nagda Tour  (20 KMS) : No entrances applicable
There a number of must-visit and explore temples in Udaipur but two of them that you shouldn't miss at any cost are Eklingji and Nagda. Also known as Sas-Bahu temples, the grandeur and splendour of these twin temples will leave you awe-struck. These temples are elevated on a moulded platform.
Around the larger of these twin temples, Sas, there are 10 subsidiary shrines in the surroundings. Furthermore, there is also a lake; it is believed that this lack hasn't dried since many years.
One of the major reasons why you must visit these temples is there amazing architect. Their beautiful carving will take you back to the royal era and give you a glimpse of the beautiful structures they used to make.
Among these temples, Eklingji is dedicated to Lord Shiva. It was built by Bappa Rawal, the founder of Mewar Kingdom in 734 A.D.
There are a total of 108 temples there. Each of them boasts some of the amazing architect you will ever see. Made from marble and sand stone, visiting these temples is surely going to make your trip to Udaipur the most memorable one. The atmosphere in these temples is serene and peaceful.
Ranakpur Temple (95 Kms) : Entrances INR 200 Foreigners / Indians exempted
Intricately designed and equally intricately made, the Ranakpur Temple is one of its kind in the whole world. It has around 1,444 pillars and every single pillar has different prints of the history embossed on it.
The temple is located around 95 km away from the city of Udaipur in the Ranakpur village, which itself is hosted by the Aravalli hills. Anyone who has visited this temple has surely been mesmerized. We presume now it's your turn.
Kumbhalgarh  (100 Kms) : Entrances INR200 Foreigners / INR15 Indians
Situated in the Rajsamad district of India, approx 100 kms from the Udaipur city, Kumbhalgarh is a World Heritage Site and is one of its kind among the hill fortresses of Rajasthan. The fort was used as a protective barrack by the Mewar dynasty. Since it is situated on the Aravalli hills, you can have the spectacular view of the lands extending towards the limitless horizons. This fort garnered itself fame when Maharana Pratap was born here. He is known to be one of the most influential kings of the dynasty, born on May 9, 1540,in the fort.
Chittorgarh Fort  (115 Kms) : Entrances INR200 Foreigners / INR15 Indians
Last but not the least place to visit in Udaipur is Chittorgarh Fort. Built by Various Maurya rulers in 7thcentury A.D, this fort contains a number of palaces and towers. It is located at 112km distance from the city and is known as the largest fort in India.
The history of this for dates back to the Khilji's rule. It depicts the pride, grandeur, and magnificence of Rajputs. When exploring this fort, you can have a glimpse of their royalty and glory. It is said to be a living picture of their sacrifices and courage as it was attacked thrive but still enemies couldn't conquer it due to the bravery and determination of Rajput warriors.
Right from beautifully-built palaces to mammoth towers, you can find everything here. There are numerous gateways that are securing this fort from all sides. The gates are made from strong iron spikes. The palaces and towers in this fort are said to be amazing architect wonders. History lovers are in for a treat here as they will have a closer look at the Rajasthani lifestyles. You can visit this fort by taxi or taking a bus.
A Final Word
Our blog, best places to visit in Udaipur offers a lot to explore. Thus, one trip will not be enough to witness all the architect wonders this city offers. It is advised to plan your trip in such a way that maximum attractions could be covered. The memories you are going to make during your Udaipur trip; you are definitely going to cherish them for a lifetime. Make sure you are taking spare batteries of your camera since there are going to be so many things to capture 
Suggestion of itineraries with Udaipur